I'm J.M. DeBord, known online as RadOwl. My teachings about dream interpretation reach millions of people worldwide through my books, media appearances and role as lead moderator at the internet's largest online public forum for dreams, Reddit Dreams. I'm known for demystifying dream interpretation so that anyone can do it.
I created a step by step system for dream interpretation, DREAMS 1-2-3 (or D3) that's easy to follow and thorough. And now I'm sharing with you everything I've learned in 25 years of personal study and practice, in an online series of courses called Dream School.
No prior knowledge about dream interpretation is required to join Dream School. Dreams are stories, like parables, and everyone understands stories. But dream stories are told using the language of symbolism. Once you learn to translate symbolism, you're ready for launch.
My approach combines the best of dream interpretation tradition with modern research and my unique insights. Dream interpretation is one part art, one part science. I teach both the art and science and present it all with fascinating examples to liven up the discussion and inform, enlighten, and show you dreams like you've never known them before!
Find out more about me at: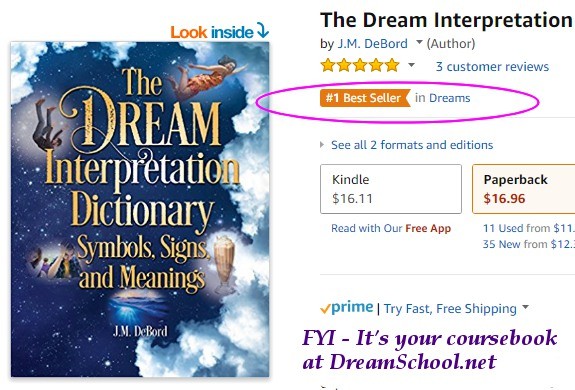 My books:
The Dream Interpretation Dictionary: Symbols, Signs, and Meanings -- This is your coursebook, included with all Dream School courses. It's a Best Seller.
Dreams 1-2-3: Remember, Interpret, and Live Your Dreams - My first book about dreams. It's highly acclaimed and easily readable.